Tea with the Black Dragon, by R.A. MacAvoy
Published 1983
Review by Tim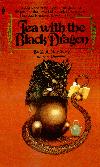 Martha Macnamara is a small, slender woman of fifty years. She plays fiddle in a céilí1 band, practices zazen, and is possessed of an infectious mix of calm centered-ness and joie de vivre. That many italicized terms should be enough to establish anyone as a "character", and a book containing fewer than two hundred pages should be able to support only one such, but it doesn't. Because there is also Mayland Long, a tall, thin man with dark skin and oriental features, of indeterminate middle-age. He has a natural facility with languages, loves reading, and delivers in a rich, beautiful voice tales of folklore, in a manner suggesting he had the stories directly from the principals. When Mayland Long has had a few drinks, he'll tell you he used to be a black dragon ten yards long, with a head like a chrysanthemum and five toes on each foot. Another "character" then, and I didn't even have to use italics.
The two are introduced by the bartender at the James Herald Hotel in San Francisco, and have an interesting conversation over tea. Martha Macnamara has just arrived from New York. She is there because her daughter Liz paid for her airline ticket and set her up at the hotel. Mayland Long is there because he appears to be a wealthy man with little else to do. They have dinner together the next evening, where Martha reports that her daughter has unaccountably disappeared. The software company for which she worked as a systems analyst has no one named Elizabeth Macnamara in their directory, and Martha doesn't know her daughter's address. Intrigued by both the problem and the woman, Mayland offers to help Martha locate her daughter. Their search becomes a mystery, which deepens abruptly when Martha also disappears. Mayland Long bends all of his peculiar abilities toward an effort to find both mother and daughter.
Tea with the Black Dragon is a wonderful brew of high-tech intrigue and fascinating characters, with a dram of fantasy added to sharpen the taste.
---
Twisting the Rope, by R.A. MacAvoy
Published 1986
Review by Tim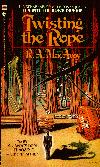 This sequel to RA MacAvoy's fantasy classic Tea with the Black Dragon finds Martha Macnamara and Mayland Long on tour with a céilí band. Since Martha is the leader and fiddler, the band is called - well, you can guess. The other band members are piper George St Ives, Elen Evans on harp, guitarist Theodore Poznan, and Patrick O'Sullivan on flute and concertina. Mayland is functioning as the band's road manager, and is also learning keyboards under Martha's benign tutelage.
The title of the novel, Twisting the Rope, is derived from an Irish gaelic song of that name (Casadh an t'Sugáin), and the meaning is important to the story. Sugáin is a rope twisted from hay or grass; the making of which is often used as a courtship ritual. The young woman weaves the end of the rope, through which a stick is inserted. The young man uses the stick to twist the rope, while the woman weaves in more hay. As the rope lengthens, the man must step back to maintain tension. The song tells of a young woman who uses a subterfuge to rid herself of an unwanted suitor. She proposes that they twist a rope together, and the young man agrees. Eventually the rope lengthens to the point where he must step backward through the doorway of the woman's cottage, whereupon she slams and bars the door!
As the novel opens, the band is near the end of an eight week tour through nineteen American states and British Columbia. As one might expect under the circumstances, tempers are a little frayed. St Ives is particularly abrasive, and his favorite target is young O'Sullivan, the only native Irishman in the band, and travelling away from his rural home for the first time. Martha and Mayland have lately been saddled with the task of baby-sitting Martha's three year old granddaughter Marty. To make matters worse, Mayland has been afflicted with a nasty flu-bug. For all concerned, the impending end of the tour is a relief.
Matters start to become more complicated when someone plays a dangerous and potentially fatal prank that almost injures Mayland. Then Marty strays off on her own; when she is finally found, she explains that she was looking for "Judy", who seems to be some sort of imaginary playmate. And the whole situation becomes gravely serious when George St Ives is discovered dead, hanging below a Santa Cruz pier from a sugáin that was made just the day before by Patrick and Elen. During the investigation Marty strays off looking for "Judy" again, and this time can not be found. It is left to poor, sick Mayland Long to try to put matters right.
Tea with the Black Dragon and Twisting the Rope are highly entertaining novels featuring well drawn characters. The latter is more intricate in terms of plot, and is longer, but Tea remains my favorite. Both books are rewarding reading.
---
1Céilí is an Irish word that means "dance". A céilí band plays traditional Irish dance music. Zazen is a Zen Buddhist meditation technique.