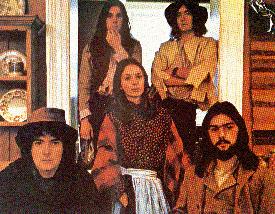 The band's name means "family" in the Irish Gaelic of Donegal County. A sister and her two brothers surnamed Brennan, and their twin uncles surnamed Duggan, comprise the group. The Brennan children's father was a professional musician in his own right, before settling down to run a tavern. Their mother was a music teacher and choir mistress. It would be hard to imagine a family environment more musically alive than this.
An clann as Dobhar was the original name of the band, which translates "a family from Dore". The original members included Máire Brennan, her brothers Ciarán and Pól, and their twin uncles Pádraig and Noel Duggan. The group started by playing in the Brennan's tavern, and in 1970, while still in school, won first prize at the Letterkenny Folk Festival. They began their professional career as a group in 1976.
The following table lists the band members and the instruments they play. Note that these are the band members' primary instruments - all have played others from time to time, as circumstances warranted.
| Irish Name | Anglic Pronunciation | Instruments |
| --- | --- | --- |
| Máire Ni Braonáin | Moya Brennan | harp, lead vocals |
| Ciarán O Braonáin | Keeron Brennan | bass, guitar, keyboards |
| Pól O Braonáin | Paul Brennan | tin whistle, flute, guitar, keyboards |
| Pádraig O Dugáin | Paric Duggan | mandolin, harmonica, guitar |
| Noel O Dugáin | Neel Duggan | guitar |
| Eithne Ni Braonáin | Enya Brennan | keyboards, vocals |
Enya Brennan, sister to Máire, Ciarán, and Pól, played with the band from 1980 to 1982, and appeared on two recordings with the group: Crann Úll and Fuaim. She left the band to pursue a musical career under the single name Enya. Pól Brennan also went solo in 1989. Máire Brennan, while remaining with the band, has made solo recordings.
Clannad plays traditional music to their own arrangements, as well as their own compositions. The latter are usually sung in English, sometimes in Gaelic, and generally have a contemporary rock/pop sound, but always with an Irish echo, more or less remote. "We are a fusion of various styles of music, growing out of a traditional Gaelic root" was Ciarán Brennan's comment, and that rather less than informative statement describes their music as well as any other, to one who has never heard it played.
I first encountered this group's music a few years after they had begun recording. I picked up In Concert in the mid-1980's, and was instantly enchanted. What really hooked me though, was a song sung in Gaelic titled "Coinleach Glas an Fhomair" (The Harvest Fields of Autumn). Though sung in a language I did not understand, it is easily the most haunting song I have ever heard. The band has recorded two arrangements of this tune; the version performed on Magical Ring added echo effects to the mix, while the version recorded for Clannad 2 was more "acoustical" in nature. It is this latter arrangement that I heard first, and it is still my favorite.
Clannad's contemporary work will often feature one or two arrangements of traditional music, but mostly contain original material. Their traditional recordings do not generally include any of their own compositions, although all of the arrangements are their own. I confess a personal preference for their traditional recordings, but their original music is well worth hearing.
Clannad has also composed and performed music for television and film. "Harry's Game" was written for a television mini-series set in Northern Ireland, and was later borrowed for other films, most notably Paramount Picture's 1992 release, Patriot Games. Clannad also composed the score for the popular British television series Robin of Sherwood. This is an impressive work, especially for the energetic "Ancient Forest", and the lyrically reflective harp instrumental "Lady Marian". The soundtrack is available on the recording Legend.
Tim Eagen
June, 1999